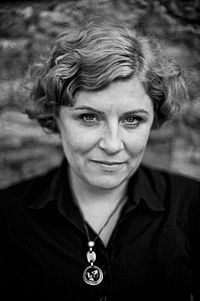 Wioletta Grzegorzewska, 1974. február 9-én született Koziegłowyban, költő, író. Rzeniszówban nőtt fel, Częstochowában végezte tanulmányait, több mint tíz évig lakott a városban, mielőtt 2006-ban Angliába költözött; jelenleg a Wight-szigeten, Ryde-ban él. 2003-2005 között férjével, Szymon Grzegorzewskivel együtt a Bulion című irodalmi lap és az azonos nevű kiadó vezetője. Verseit közölte többek között az Arkusz, az Arterie, az ArtPapier, a Fraza, a Kresy, a Studium, a sZAFa, a Tygiel Kultury és a Zeszyty Literackie, számos antológiába is bekerültek (Daj słowo, Na końcu świata napisane. Autoportret współczesnej polskiej emigracji, Solistki: Antologia poezji kobiet (1989-2009), Free Over Blood. New Polish Poets Series). Guguły című elbeszéléskötetéért 2015-ben Gdynia város irodalmi díja mellett Nike-díjra is jelölték.
Megjelent művei:
Wioletta Greg, Finite Formulae and Theories of Chance (2014, vers, ford. Marek Kazmierski)
Guguły (2014, elbeszélés)
Notatnik z wyspy (2012, próza)
Pamięć Smieny/ Smena's Memory (2011, vers)
Ruchy Browna (2011, vers)
Inne obroty (2010, vers)
Orinoko (2008, vers)
Parantele (2003, vers)
Wyobraźnia kontrolowana (1997, vers)
A szerző blogja
A szerző profilja a literackie.pl portálon
A szerző alkotói Facebook oldala
A szerző versei a Zeszyty Literackie oldalán
Interjú a Wysokie Obcasy portálon
Community content is available under
CC-BY-SA
unless otherwise noted.