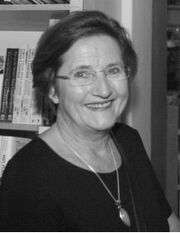 Maria Krüger, 1904. szeptember 6-án született Varsóban, 1999. augusztus 13-án hunyt el, gyerek- és ifjúsági művek szerzője, újságíró. 1928-ban debütált a Płomyczek című gyereklapban. A megszállás alatt együttműködött az Epoka csoporttal; részt vett a varsói felkelésben. Ötletgazdája és sokáig szövegírója a népszerű Miś z okienka gyereksorozatnak. Legnépszerűbb műve az 1959-ben meggjelent Karolcia, melynek 2008-ban Jowita Gondek rendezésében elkészült a filmváltozata is (angol címe: The Magic Stone).
Megjelent művei:
Najpiękniejsze bajki (1997; kicsiknek)
To my! Dwa kapciuszki (1997; kicsiknek)
Odpowiednia dziewczyna (1988)
Serce dzwonu (1981)
Złota korona. Opowiadania z historii Polski (1976; Lengyelország története)
Witaj, Karolciu (1970; a Karolcia c. regény folytatása)
Jak Bartuś z wiatrem gonił (1966)
O Margosi młynarzównie (1965)
Ucho, dynia, sto dwadzieścia pięć! (1964)
Apolejka i jej osiołek (1963)
Klimek i Klementynka (1962)
Godzina pąsowej róży (1960; magyarul is megjelent)
Karolcia (1959)
Bajki (1958)
Dar rzeki Fly (1957)
Petra (1957)
Szkoła narzeczonych (1945 vagy 1946, serdülő lányoknak)
Magyarul megjelent műve:
Nagyanyáink idején. Sebők Éva ford. Budapest: Móra, 1966.